How does Anifit cook?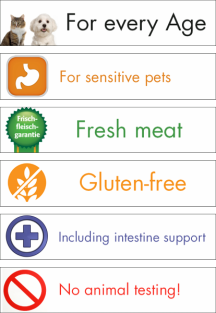 In the production of our meals we at Anifit pay special attention to freshness and quality. Our meals contain:
a high percentage of fresh meat (90 - 95%), supplemented with vegetables and other natural products.
only natural raw ingredients.
only meat which is fit for human consumption.
no preservatives.
no bulking agents or attractants.
no added fat.
no meat-and-bone meal.
no soya.
no maize.
no vegetable or cereal flours.
only gluten-free ingredients.
Our meals are
gently prepared
using the
cold filling method
. They are preserved only by gentle heat treatment without the use of preservatives.
Our meals are, of course, made
without animal testing
. They are free from BSE and foot and mouth disease. Our products are made in Sweden, a country where animal welfare is of high priority and which is extremely rarely affected by animal diseases on a European scale. The quality of animal husbandry and animal processing is excellent and presents an essential factor in ensuring the quality of Anifit products.
Anifit meals contain 100% of your pet's nutritional requirements and are approved
complete diets
.